NY State Standards for Building Laws and Regulations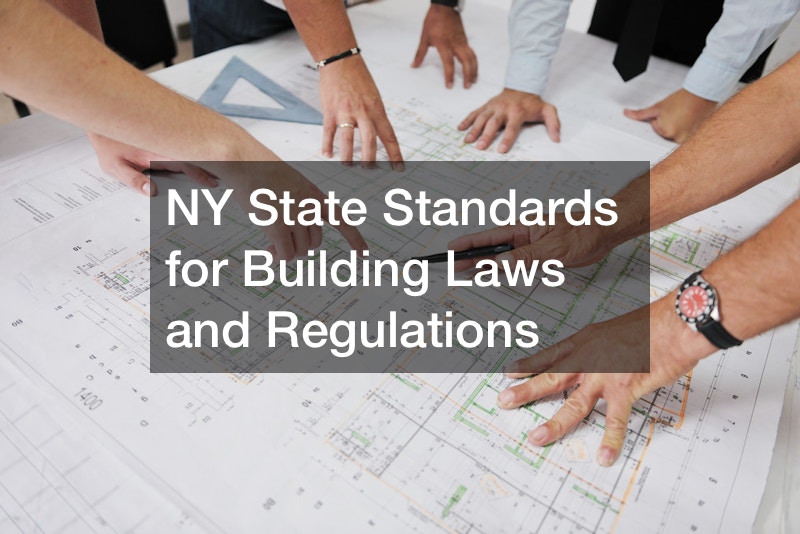 If you're looking to build a new home and you reside in New York, your building contractors and tradespeople should be up to speed with NY state standards. You will know that you're dealing with a reputable company and contractors when they are licensed and comply with state codes and regulations, as this is utterly important, no matter the build.
Regarding regulations, each state has specific building codes and requirements that homeowners and contractors must abide by. The same applies to NY state standards and building requirements. Today's article is covering some details for NY and recommendations or specifications.
Structural Implementation: The Roof
As far as roofing is concerned, compliance rules apply to the different types of roofs. The roof covering must also be structured according to state protocols related to it. Weather protection is mandatory on any roof, and since it forms part of the structure and insulation factors, it is important to ensure that all factors are checked for the safety and efficiency of the roof.
Weather protection for roofs as per NY state standards includes ice barriers, exterior wall flashing, roof flashing, crickets, saddles, and roof tile valley flashing. The purpose of flashing is to safeguard the roofing structure from water entering the building through the possible services in the roof structure. When flashing is done with walls, it is intended for the same goal. The flashing process is vital for any building structure since there are many nooks and crannies to a roof.
Address the Plumbing Work
With regards to plumbing, the NY state standards include an in-depth description of plumbing for commercial and residential buildings. For example, in commercial places like theaters or cinemas, there should be one toilet for every 125 men and one toilet for every 65 women. Night clubs and bars, for example, may have one toilet per every 40 men, and the same amount applies to women. These codes also apply to international codes as well as NY state standards.
HVAC systems have many details and regulations which apply in the state of New York and also within the national region. The efficiency of systems must be updated from 9% to 30%, so any older systems ought to be replaced to ensure better energy use. Not only does energy efficiency lower the cost of energy bills for the property owner, it also reduces the impact on the environment.
Care and upkeep must be taken to ensure that intake systems, outlets, and fans are in working order. It is also important to note that systems installed outside must have the required regulations and controls to manage weather-changing patterns. For example, snow melting systems, timer controls, and efficiency with swimming pool heating requirements.
Adding a Garage
Every property needs safe, secure parking for the vehicles that will be stationed and parked on the premises. If you have a garage and are looking to change garage doors, or you want to build a garage and add specific garage doors to suit your needs, then there are certain regulations to consider.
The regulations on garage doors and garages in NY are that the doors should have fire protection, including the room, or, in this case, the garage is also to be protected against fires. Other safety measures may include that the garage owner should know where to locate the garage door opener. This will help that the door can also be manually opened when there isn't electricity to power the door.
Working with garage door installers will give you more insight because they are professional and skilled in all things related to their niche. They would have also probably given you a tip to ensure that when vacationing away, you can unplug the garage door opener. Regular maintenance is also recommended on all garage doors to guarantee that it works efficiently and is safe to continue using.
Asphalt Regulations and Use
Asphalt has numerous uses, including being an excellent soundproofing material, as flooring options, for paving, building construction, industrial products, and lots more. An asphalt company may specialize in specific asphalt installations like flooring. One of the regulations when it comes to asphalt, as it is with other building materials, is to have any waste recycled and repurposed. Bill S5103 of the New York State Senate states that 50% of all construction material should be recycled.
Your local asphalt company can help you decide on certain options for your requirements, and they are also able to recycle excess asphalt material. Due to the multiple recycling nature of asphalt, it is a very useful material that can be used multiple times for various things. Other benefits of using asphalt in construction are that it is eco-friendly, affordable, and easy to apply or install.
Water Efficiency
Residential and commercial properties can apply to have a well-constructed if the infrastructure and situation apply. The well service is essentially related to the well reconstruction, and this is the company that can do so. A well is a water containment system that can hold up to 100,000 gallons (378,000L) of water. With a well on your premises, you can have sufficient water supply to be independent.
When considering NY state standards for a well, one major factor is accessibility. Being accessible will ensure that components can be serviced and maintained to guarantee it's efficiency. The placement of the well is also essential because the ground must be perfect, as is the accessibility of the well. The location must be safe from flooding and water contamination, as this water will be used for a variety of applications and needs to be safe to use.
Water pumps and the overall construction of the well must be durable and suitable for the property and its intended use. The cost to install a well depends on the depth. For steel casings of about 50ft deep could cost around $4,200, 150ft in depth can be around $12,600, 300ft up to $35,000, and 400 ft $33,000. These are also the diameter of a steel case of 8inches in diameter. The cost is lower when using PVC casings, for instance, 50ft deep and 4inches in diameter is about $1,700, and 250ft in depth at also 4inches diameter and PVC $8,800.
Some benefits of having a well on your premises is the reduced cost of water utilities, it provides cleaner water to use, and it is cost-effective in the long run. It may increase the ROI of your property when the time comes to resell.
Building Your Home or Commercial Property
There are many regulations when considering NY State standards for building a property from scratch, and it is rightfully so for safety and a host of other aspects. You can consult with a custom home building company to assist you in meeting all the codes and requirements for building successfully in New York.
When it comes to a building structure, there is emphasis and focus on safety, and in this instance, the structure should be secure. There are factors such as an anchor building, stress design, air-inflated structures like membranes for insulation, as well as beams for structural integrity.
Security Features on The Building
All buildings are required to have security features like smoke detectors, fire systems, and additional factors for security. Materials used in the construction of a building should also have fireproof elements as this can help prevent the spread of fire to other buildings next door and further in the vicinity.
Parameters and Fencing
When it comes to fences, the NY State standards might require formal project plans in some cases. Furthermore, the property has standard codes for yard fences and sheds. Construction site fencing is regulated by the building codes set out in New York's NYC Building Code 3307.7, as these fences are crucial and play a role in safety.
Building fences in residential areas that are only up to six feet in height does not require special permits. Fences can be installed for privacy and security and can be made of brick, wood, and steel. The front fence is said to be four feet in the height of a residential home, and corner plots' side fences are also required to be about six feet in height.
Hiring a trusted local fence company in your area will help you get the fence set up at your property. You can also do some research and get quotations before deciding on the company of choice to install your fences.
Gardening Regulations
Landscaping and gardening are wonderful for any property, and if you're looking to have your property landscaped, it's good to know about the regulations surrounding it, too. NY state standards suggest that licensed companies undertake the task of landscaping. In the landscaping industry, pesticides are used, and it's important to know the toxic levels, what works with certain plants, and what is not good for others. It is also essential to use pesticides with care and licensed, certified persons are trained and experienced with this.
In the state of New York, it is also unlawful to practice landscaping if not endorsed. At most, the youngest landscaper must be 18 years old and older and working with or for a company that they are representing. There are also protocols for tools used in landscaping; for instance, only two leaf blowers are meant to be used on a property of less than one acre in size.
Compliance for Deck Building
Building decks in the state of New York, as with all other building proceedings, takes on a unique approach and must follow regulations and requirements. The rules for deck building, according to state law of New York Section 403 and R403.1.4, recommends 12 inches in diameter, below frost level depth of about 42 inches, and 12 inches thick when using concrete.
The lumbar wood used for decking must be treated and weather-resistant to prevent it from rotting. Other natural decay-resisting wood can also be used, like redwood, black locus, and cedar wood.
Working with professional deck builders in your region will help you get the best out of your home, helping to increase the value of your property. You can also be certain that when working with a certified deck-building company, they will follow all the regulations for every component used to build the deck. Decks are also beneficial for their beautiful aesthetics and ability to boost curb appeal.
Demolition on Site
Demolition is sometimes required when construction is underway or before it starts. Safety is also crucial in demolition processes, and there are factors like safety netting, scaffolding, and demolition equipment to be on site. There is also handheld device demolition equipment used in residential construction sites, which may be needed for smaller spaces and might include sled hammers and compressors.
Demolition is sometimes required for properties that have experienced flooding, fires, and explosion, and natural wear through age. Before demolition is scheduled, there is certified documentation filed. The documents must describe the situation and all the details related to why a particular building needs to be demolished. For weak structures, emergency documentation is issued.
At times, there can be issues regarding errors and omissions that residential demolition contractors must be wary of. Failing to make mention of certain structural issues like damaged or collapsed walls or the blueprints of the building that don't line up with the actual site to demolish can lead to other issues.
Further Safety and Standards
The NY State Standards include safety for workers on the construction site and those in the near surroundings. From 2018 through to 2020, it's been determined that almost 20% of deaths were construction worker-related. Guardrails and scaffolding are crucial when working on tall structures. Excavation guard rails will also prevent unauthorized entry to the construction site by unofficial persons.
Have you thought about renovating your home? Perhaps you're considering significant alterations and construction. While this may be so, be certain to choose reliable companies to work with because they will follow the rules for any construction work and installations undertaken by them.